Live Shopping in the USA has become an area of online buying that many consumers focus their attention on. When it comes to comparison shopping, at least 75% of millennials find live video material useful and engaging.
Our lives as modern-day retailers are greatly influenced by the internet and technology in general. So, how might Live Shopping help you increase your retail sales? This post will explain what Livestream shopping is and how it may help your company achieve financial success this year.
What is Live Video Shopping?
So, what specifically is Live Commerce? Live video shopping allows products or services to be displayed and marketed to an online audience in real-time. It allows the viewer to engage with the live stream while also seeing the product or service in action. It's a fantastic method for promoters to connect with both current and prospective consumers. It's also known as live streaming.
Because it is live, the consumer can see products or services in all of their perfection, which builds confidence. Customers are able to make better-educated choices about whether or not to purchase the goods. When it comes to an online buying experience, Live Commerce or Live video shopping offers better engagement and entertainment.
Provide Product or Service Demos or How-To's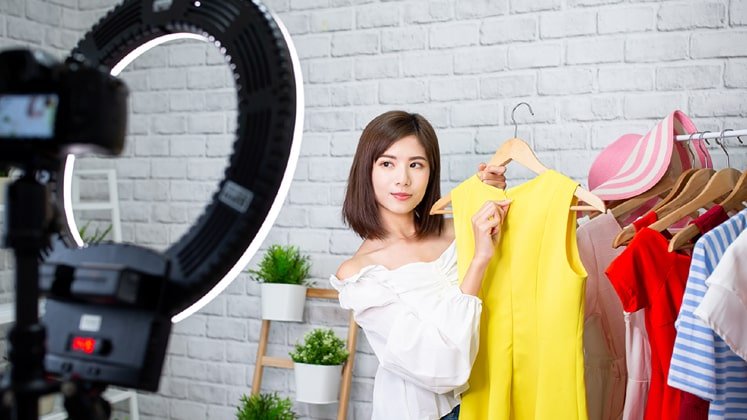 There is more you can do with Live Shopping to highlight products or services on sale. In addition to images and their limits, you may demonstrate a product or host a how-to session.
Seeing a brand's product for its intended purpose will influence buyers' choice on whether or not to buy it. Be it fashion, beauty, electronics, or jewelry brands, live video shopping can assist showcase products in the best possible way.
These product demonstrations provide buyers with the opportunity to discuss products in more detail. They can ask a host to show the desired characteristics that have not yet been discussed. Live stream shopping shows can be done indoors or outdoors by an existing member of staff, or it could be done in collaboration with influencers. Influencer marketing has significant advantages, especially for those who already conduct frequent live streaming shopping shows.
Hold Live Stream shows regularly
When you wish to host-specific live stream shopping shows, such as the introduction of a new product or range, live streaming shopping may be extremely useful. It's a fantastic method to enhance your marketing initiatives when it comes to promoting goods you've been working on or want to re-release to the market.
Because retail is so customer-focused, you want to offer an experience that brands aren't necessarily taking advantage of. Many brands across industries are benefiting from this medium to increase sales and brand recognition. Here are some ideas on what you can do via live video shopping.
Periodic Sales
Seasonal discounts may be effective in driving more online purchases, especially fashion and beauty brands. For example, having a host of a live shopping Show demonstrating specific items for sale and further running limited-time offers to create the buzz around a product.
Because there is a time restriction or very few available, the 'limited edition' or 'limited time offer' may frequently encourage viewers to make a faster choice on whether or not to purchase the goods.
Live Competitions and Giveaways
Being known to offer freebies and giveaways is another excellent method to increase retail sales.
You can include additional items for sale as part of the live giveaway to increase promotion and exposure.
Make exclusives available via Livestream E-commerce
Online exclusives, like limited editions, are often utilized in retail to provide something distinct from what is offered in-store. With customers spending an average of 83-92 minutes per day watching digital video, there are lots of exclusives you can offer via Livestream e-commerce that will keep them interested.
Where appropriate, exclusives may be items that are exclusively accessible online rather than in-store. The more inventive you can be in providing more distinctive customer experiences via live commerce the better. This allows consumers to come closer to spending their money with you rather than clicking elsewhere and spending it with your rivals.
The Advantages of Live Video Shopping
Live video shopping or live commerce offers many advantages, and if you've been contemplating it as a marketing tactic here is the place to start for your retail company. What began as a marketing tool for fashion and cosmetics companies has now spread to other industries.
For your consumers, Live online shopping may be a more personal and intimate experience than other kinds of connection. Live commerce develops a deeper connection between brand and consumer. That trust and connection may generate repeat business and loyalty for years to come.
You can create a community for your brand that consumers would want to be a part of by hosting frequent live streaming shopping shows. Live online shopping can significantly add to your retail sales while also increasing brand recognition and reach.
Use the appropriate Platform
Selecting an appropriate platform is critical for the success of your live shopping shows. There are many live streaming shopping platforms available, such as Channelize.io. Connect with us today if you haven't tried live commerce yet, 2021 is the year to do it.
Incorporating it into your sales and marketing plan as a brand is likely to result in increased growth and sales.